If there is one place I could fully recommend it is Sri Lanka, so here you have my top 3. A country full of unique landscapes and friendly people. Since the moment we arrived we loved the folklore and the untouched atmosphere. Definitely a nice and warm country with the most delicious and spicy food and obviously the tastiest tea ever.
This trip was a bit stressful for us, it could actually be Top 4 places instead of 3. We flew from London to Dubai where we supposed to make a connection the same day to Colombo. Unfortunately, Dubai was covered in fog so all flights were delayed. At the end, we had to wait in Dubai for 3 days so we missed some hotel reservations and couldn't visit Kandy(my top 4), one more reason to come back!
After some hours discussing with Emirates Airlines we could fly to Colombo in a Business class seats. Not bad for the time waiting but we couldn't recover the lost time.
_____________________
Si existe algún lugar que pudiera recomendar totalmente sería Sri Lanka, así que aquí tienes my top 3. Un país lleno de paisajes únicos y gente muy amistosa. Desde el momento que llegamos amamos el folclore y el ambiente puro. Definitivamente un lugar hermoso y caluroso con la mas deliciosa y picante comida y por supuesto el mejor te.
Este viaje fue para nosotros un poco estresante, se podría llamar Top 4 en vez de 3. Volamos desde Londres a Dubái donde tendríamos una conexión el mismo día a Colombo. Desafortunadamente, Dubái estaba cubierto por una neblina y los vuelos estaban retrasados. Al final, tuvimos que esperar en Dubái 3 días así que perdimos reservaciones de hotel y no pudimos visitar Kandy(mi top 4), una razón más para volver!
Después de horas discutiendo con Emirates Airlines pudimos volar a Colombo en asientos Business class. Nada mal por el tiempo de espera pero no pudimos recuperar nuestro tiempo perdido.
1. Ella
When we finally arrived in Colombo we spent 1 night there and went by taxi all the way to Ella, not the most recommendable way but we wanted to recover our time. In Sri Lanka roads are crossing small villages, mountains, etc. so our journey took 6 hours by taxi, trying to catch up our next hotel reservation.
In the first moment we arrived in Ella, we knew this place would stay forever in our hearts. Ella is in short words a magical place, it felt so remote and peaceful like as if tourists haven't spent so much time there.
We had the chance to visit Adam's Pick where you can have the best view of the valley and all the mountains around, the best time to visit is during sunset.
While we were walking across this town, you could see a lot of little nice fruit shops, lots of tuk tuks moving around and cows walking in the street. These animals were so respected as any other pet, something I haven't seen before.
While in Ella we moved by tuk tuk to all the main attractions, visit the beautiful Waterfalls, Monk temples and the most visited and photographed train rail.
Ella felt so small but you can do a lot of things around it, don't forget to take a sweater because the weather can be a bit chilly during the nights.
_____________________
Cuando finalmente llegamos a Colombo, nos hospedamos una noche y al día siguiente tomamos un taxi hacia Ella, no es la manera más recomendable pero queríamos recuperar nuestro tiempo perdido. En Sri Lanka las calles atraviesan pueblos pequeños, montañas, etc. así que nuestro viaje tomó 6 horas en taxi, tratando de alcanzar nuestra próxima reservación de hotel.
En el primer momento que llegamos a Ella, supimos que este lugar se quedaría en nuestro corazón por siempre. Ella es en pocas palabras un lugar mágico, se sentía tan remoto y en paz, como si el turismo no hubiera llegado todavía.
Tuvimos la oportunidad de visitar Adam's Pick donde puedes tener la mejor vista del valle y montañas aledañas, el mejor momento del día es durante el atardecer.
Mientras caminábamos a través de este pueblo, pudimos ver muchas tiendas de frutas, tuk tuks manejando y vacas caminado por la calle. Estos animales son tan respetados con cualquier otra mascota, algo que nunca había visto antes.
Para visitar las atracciones del lugar nos movimos en tuk tuk, visitamos las cascadas, templos de monjes y el el lugar más visitado aquí, las vías del tren.
Ella parece ser muy pequeño pero hay muchísimas cosas por hacer, no olvides de llevar un suéter ya que durante la noche refresca un poco.
2.Tangalle
Our next stop was Tangalle, what I highly recommend if you want a peaceful beach. The town might not have a lot to offer you but the beach is really peaceful and relaxing, we had an amazing time in the hotel Serein Beach which is located at the front beach, 5 minutes away from the town. It is ruined by Sri Lankans so it gives you a totally different perspective than when you stay in places ruined by Europeans.
We spent our days at the golden beach, taking pictures and enjoying the life that is too short!
There are just a few places you can eat next to this hotel, this area is still very untouched and that's why we enjoyed the most.
One thing that amazed me a lot is that during the night you could see the hermit crabs walking in the sand, so you could have an amazing dinner watching these creatures walking on your feet.
_____________________
Nuestra siguiente parada fue Tangalle, el lugar que más recomiendo si quieres una playa tranquila. El pueblo no tiene mucho que ofrecer pero la playa es hermosa y pacifica, tuvimos una estancia increíble en Serein Beach, que está localizada enfrente de la playa a 5 minutos del pueblo. Este lugar esta dirigido por Sri Lankans así que te da una perspectiva totalmente diferente que cuando te hospedas en un lugar organizado por Europeos.
Disfrutamos esos días en la playa de arena dorada, tomando fotos y disfrutando de la vida que es muy corta. Alrededor de este hotel hay muy pocos sitios donde comer, esta área esta casi intacta y es por eso que la disfrutamos mucho.
Una cosa que me impresiono mucho es que durantela noche puedes ver los cangrejos ermitaños moviéndose por la playa. Así que puedes tener una maravillosa cena con estas lindas criaturas caminando por tus pies.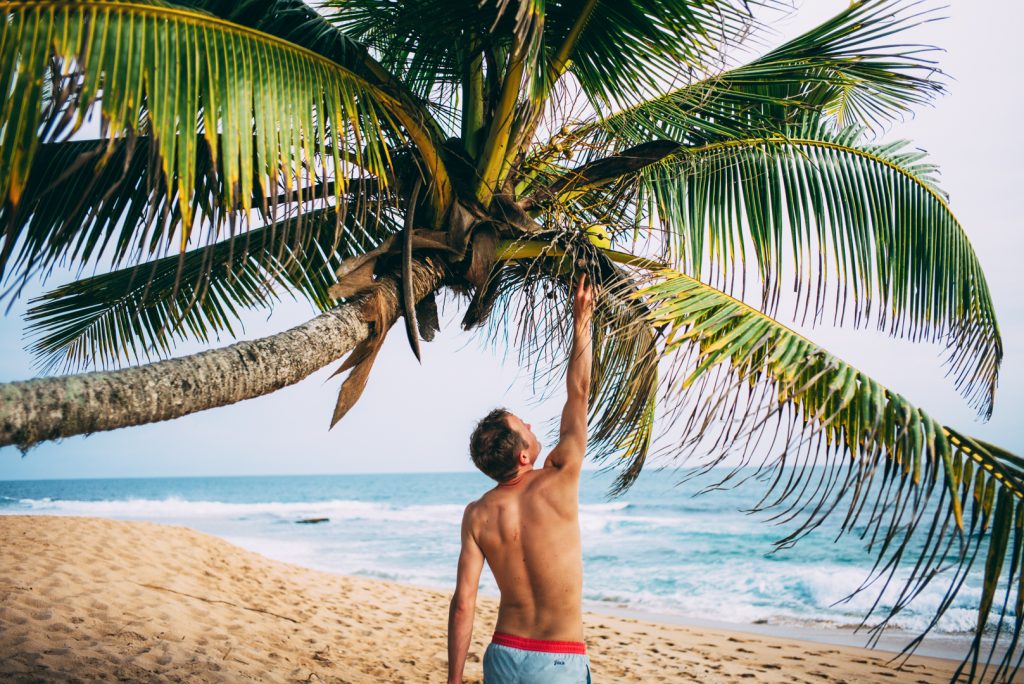 3. Galle
Our last stop was Galle, this is the most popular beach in the south of Sri Lanka. A lot of nice restaurants are located on the beach and there is plenty of tourism, still is not a crowded place.
We stayed a few meters away from the beach in La Villeta in Talpe. A very peaceful and modern place that gave us a nice time for Jens's birthday. There we met Santy our tuk-tuk driver, he was so kind and the happiest person I ever met.
During our staying in Galle he told us the nicest beaches to visit and took us to snorkel on the beach he grew up. Nothing better than a local person showing you the most beautiful sea treasures.
One of the things I like the most during my travels to start a day without a plan. One day we had the most beautiful sunsets I have ever seen and without planning. We went to buy some sunscreen and without looking for it we found a beautiful beach called Koggala. We went for a walk in that white sand beach, after a couple of minutes, the sky turned orange and then pink, purple and all the most beautiful colours. That's when you think life is amazing and brings you those beautiful memories to keep forever.
_____________________
Nuestra última parada fue Galle, el lugar más turístico al sur de Sri Lanka. Lleno de lindos restaurantes localizados enfrente de la playa y lleno de turismo, pero aún así no es un lugar repleto de gente.
Nos hospedamos en un hotel a unos metros de la playa llamado La Villeta en Talpe. Un lugar muy tranquilo y moderno que nos dio una buena estancia en el cumpleaños de Jens. Ahí conocimos Santy nuestro chofer tuk tuk, el fue tan amable y lindo con nosotros, una de las personas más contentas que he conocido.
Durante nuestra estancia nos enseño las mejores playas y nos llevo a bucear en la playa donde creció. Nada mejor que una persona de la zona para mostrarte esos tesoros marinos.
Una de las cosas que más me gusta en mis viajes es comenzar el día sin planes. Un día tuvimos el mejor atardecer que he visto sin planearlo. Ese día fuimos a comprar crema bloqueadora y sin buscarlo encontramos una hermosa playa llamada Koggala. Así que fuimos a caminar en esa playa blanca, despues de unos minutos el cielo se cubrió de naranja, después rosa, morado, todos los hermosos colores que puedas imaginar. Es ahí donde piensas que la vida es maravillosa y te brinda esos hermosos momentos para recordar.
In our very last day, we enjoyed Colombo. A big city with plenty of beautiful temples and tuk-tuks moving around. If you want to eat a very nice Sri Lankan food I can highly recommend Praneetha restaurant. Don't be afraid when you see this place, it is so tasty and very original, you should give it a try!
Sri Lanka is full of beautiful landscapes, friendly people, and amazing sunsets.
After being touched by the Tsunami in 2004 you could still see some damage in specific areas but people continue living their life and being positive about their environment. Some of the reefs were destroyed but you can still enjoy a lot of their nature and makes you wonder how beautiful it used to look before. Hopefully, time will continue recovering this amazing treasure.
If you ever go to Sri Lanka please enjoy it before tourism change it.
_____________________
En nuestro último día, disfrutamos de Colombo. Una ciudad muy grande llena de hermosos templos y tuk tuks. Si quieres comer comida local te puedo recomendar el restaurante Praneetha. No te sientas intimidado por el lugar, es muy delicioso y bastante original, deberíamos probarlo si visitar esta ciudad.
Sri Lanka esta lleno de hermosos paisajes, gente amistosa e increíbles atardeceres.
Después de ser devastada por el tsunami del 2004, aún puedes ver lugares dañados en ciertas áreas pero la gente continua haciendo sus vidas y siento positiva. Algunos de sus arrecifes fueron destruidos pero aún puedes disfrutar de su naturaleza que te hace preguntar que tan hermoso era antes. Esperemos que el tiempo continué recuperando este lugar maravilloso.
Si alguna vez visitas Sri Lanka disfrútalo antes de que el turismo lo destroce.