Welcome to my Q&A post!
Every time I receive a lot of messages asking about me, my Instagram, photography and travels. Now I decided to share more insights and will respond to all your questions in my blog post.
Thank you so much for taking the time to write to me and being interested in my work.
____________________________________
Do you feel pressure to maintain a theme/aesthetic for your Instagram page?
No, I always post pictures I feel happy with the composition. Jens is a great photographer and by now our common style has evolved to an extent that we usually don't struggle to keep the same aesthetic.
What's the next big goal you want to achieve?
Currently, photography is my hobby and I would like to make it my real job. This is probably the biggest goal I would like to achieve, besides I love travelling and working on my own. Sometimes things are not easy, but being consistent will help me to reach this goal.
How did you get into being a travel blogger?
I always loved travelling so much, but I never shared my travels until I met Jens. He is a photographer and became very handy to travel with someone that loves to take pictures of you. Suddenly I had a lot of quality content from various journeys and I decided to start sharing it.
How do you travel so much?
I am from Mexico living in Europe this already implies a lot of family travelling, besides that I have a lot of holidays.
How do you earn money while travelling?
For the past years, I was having a normal job and I was travelling during my paid holidays. Sometimes I had collaborations with brands and which also helped me to save money.
How did you get started before you had an online income?
I'm a freelance graphic designer so this helped me a lot.
How did you gain so many followers on IG?
This has been up and down, sometimes it is really good and I don't have an idea of how I gain followers. On other days it is steady and slow. I think it depends on the content and the way the IG algorithm works, sometimes it is in your favour sometimes is not.
Which camera and lens you are using?
Mostly we are using a Leica M240 with a 35mm and 90mm lens and a Nikon D800 with a 14-24mm, 24-70mm, 85mm and a 200mm lens.
How do you edit your photos? What programs do you use?
I edit all my pictures in Lightroom with my own presets. I never use photoshop to remove people or imperfections, I prefer to keep the shot as original and real as possible. It usually pays off to invest more time in planning and taking high-quality pictures rather than spending hours in front of a computer trying to fix pictures in photoshop.
How do you decide where to position yourself in the photos?
I think it all relies on our photography style, most of the times I like to take a picture where the spectator can imagine oneself in the landscape. Besides I also like pictures where you can see more about me, we both love portraits so much.
What do you do for a living?
I studied Graphic Design and for the past 8 years, I have been working in the same field.
How many countries have you visited?
Mexico, USA, Canada, Cuba, Guatemala, Spain, UK, France, Italy, Belgium, Holland, Germany, Sweden, Hungary, Austria, Andorra, Morocco, Lebanon, UAE, Sri Lanka, Philippines, Indonesia and the list is counting…
Who takes the pictures of you?
Most of the time Jens, sometimes my tripod or another photographer I'm collaborating with.
What is your favourite picture of your Instagram?
This picture was taken near my home town. There is a desert one hour away from the city and you can find a beautiful landscape like this.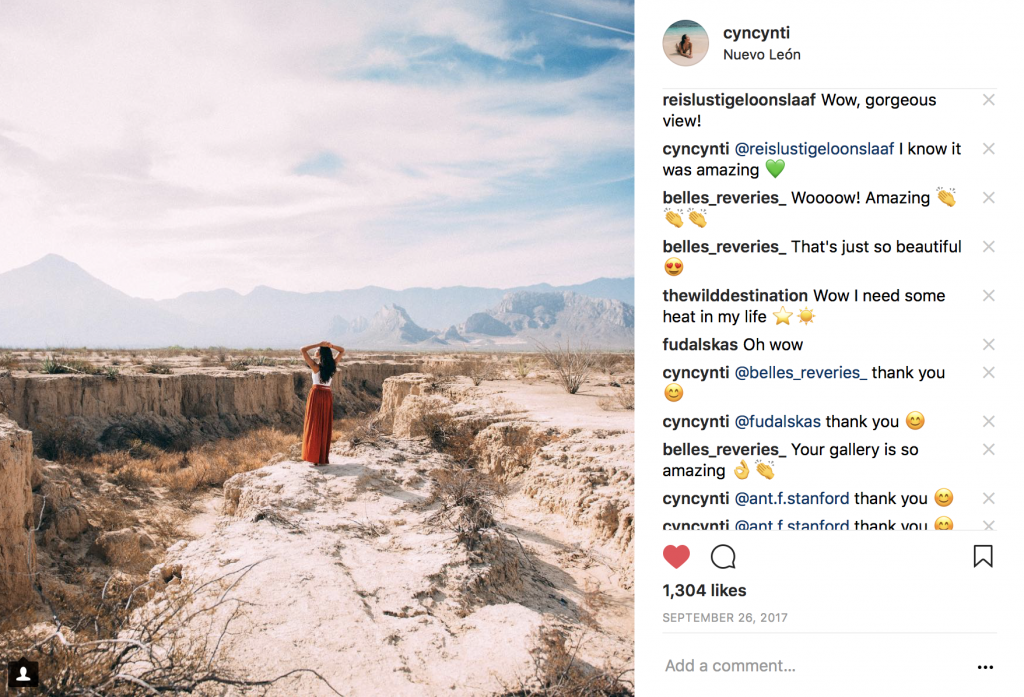 What's your favourite place you've been so far?
I was recently in the Philippines and I have never seen anything like it, Marrakech is one of my favourite destinations too.
What is your favourite place in Mexico?
I love my country, there are so many different areas that are worthwhile to visit. My absolute favourite is the Caribbean, followed by la Huasteca Potosina which is where my parents were born. Oaxaca and Chiapas are also extremely beautiful and are well known for tourism.
How many times do you travel per year?
We are aiming for two long trips every year, this would be Mexico and another long destination. Besides we like to explore places close to where we live. Living in Europe makes it super easy to escape for a weekend holiday.
What do you miss the most from Mexico?
Obviously my family and friends! Food is one of those things I miss… it is so complicated to find the proper ingredients to cook Mexican food and chillies are not spicy or tasting the same.
Is your hair naturally that curly?
This is funny because people ask me this all the time and yes it is naturally curly.
What is the message you want to spread with your Instagram profile?
When I started sharing pictures on Instagram, it was more to share my memories with friends and family. Since I am living abroad the internet is the easiest way to communicate.
Now I like to share those memories to inspire people to travel more, there is so much we can learn from other cultures and people.
If you still have more questions about me, Instagram, photography, travel, don't be shy and sent me an email to hola@cyncynti.com or visit my Instagram @cyncynti and send me a DM.