One of my dreams was visiting Indonesia, it always sounded so far and remote, made me wonder what kind of dishes locals eat or which traditions they have.
Bali is one of the most popular and attractive destinations in Asia. A lot of people go there and never want to leave the island. From very nice beaches to beautiful temples in the middle of the rainforest, a volcano and the most wonderful and friendly people belong to this place. The best thing is that it is one of the most affordable places I have ever visited.
Here I will summarize you how we discovered Bali.
Our journey can be seen in the map; starting in Seminyak (3 days), Ubud (3 days), Gili Trawangan (3 days) and Bukit (2 days).
The easiest way is to fly directly to Denpasar and move by taxi to your accommodation. We were flying from London to Jakarta via Doha because it was the most affordable option for us. We arrived late at Denpasar airport and luckily had already arranged a pick up by taxi to our accommodation in Seminyak.
From the first moment we arrived, we felt the warm air and for me, that was already very pleasant. We arrived at our room and I instantly fell in love with it.
_________________________________
Bali, mi dario de viaje
Uno de mis sueños siempre fue visitar Indonesia, me parecía un lugar lejano e interesante, me preguntaba que tipo de platillos tradicionales hacían o como era su cultura.
Bali es uno de los destinos más populares de Asia. Muchos turistas visitan este lugar y nunca dejan la isla. Desde hermosas playas a templos en medio de la selva, un maravilloso volcán y una gente tan amistosa. Lo mejor es que es uno de los destinos mas asequibles que he visitado.
Ahora te contaré un poco como descubrir Bali.
Puedes ver nuestro viaje en el mapa; comenzando en Seminyak(3 días), Ubud (3 días), Gili Trawangan (3 días) y Bukit (2 días).
La manera más fácil es volando directamente a Denpasar y trasladarse en taxi hacia el hotel. Nosotros viajamos desde Londres a Jakarta vía Doha, ya que era la manera más económica que encontramos. Nuestro llegada fue tarde pero ya nos esperaba un taxi que nos llevaría a nuestro hotel en Seminyak.
Desde el primer momento que llegamos pudimos sentir el calor de la noche y para mi eso ya fue maravilloso. Cuando llegamos a nuestra habitación nos enamoramos del lugar.
Seminyak
We made an extensive search about where to stay near Kuta and identified Seminyak and Canggu as the most attractive areas. We decided to stay at Room and Vespa, a very stylish and beautifully decorated place. If I went back to Bali I'd definitely stay there again, staff was so friendly and the location was perfect!
We spent our days exploring and shopping, you can find very nice stores in that area. If you like to go shopping on holidays this area is very recommendable. There are plenty of nice cafes and restaurants, fruit bowls as you can see all over social media and nice atmosphere during the nights.
The only thing I didn't like and I actually found disappointing was the beach, I was expecting a beautiful white sandy beach with palm trees and blue water. As you know I am from Mexico so probably my beach expectations were a bit higher. Unfortunately, it was a bit dirty and the sea wasn't bad but not so attractive. After seeing this we decided to focus on exploring the streets and trying to find interesting places to eat.
_________________________________
Seminyak
Hicimos una larga busqueda sobre donde hospedarnos cerca de Kuta y encontramos que Seminyak y Canggu son las áreas más atractivas. Al final decidimos hospedarnos en Room and Vespa, un lugar súper moderno y con una hermosa decoración. Si tuviera la oportunidad de regresar a Bali, seguro me hospedaría en el mismo sitio ya que la locación y atención fueron perfectos.
Dedicamos nuestros días a explorar y hacer un poco de compras, en Seminyak puedes encontrar muchas tiendas súper lindas. La zona es muy recomendable si te gusta ir de compras cuando estás de vacaciones. Además puedes encontrar los mejores restaurantes y cafeterías, bowls de frutas como los que puedes ver en las redes sociales y sobre todo un buen ambiente en la noche.
Lo único que no me gustó en esta zona fue la playa, quizá me esperaba una arena blanca y hermosa, llena de palmeras y el agua azul cristalina. Como ya saben soy mexicana y mis expectativas son altas. Desafortunadamente nos encontramos con una playa poco atractiva y sucia. Después de ver esto decidimos explorar las calles y encontrar lugares interesantes para comer.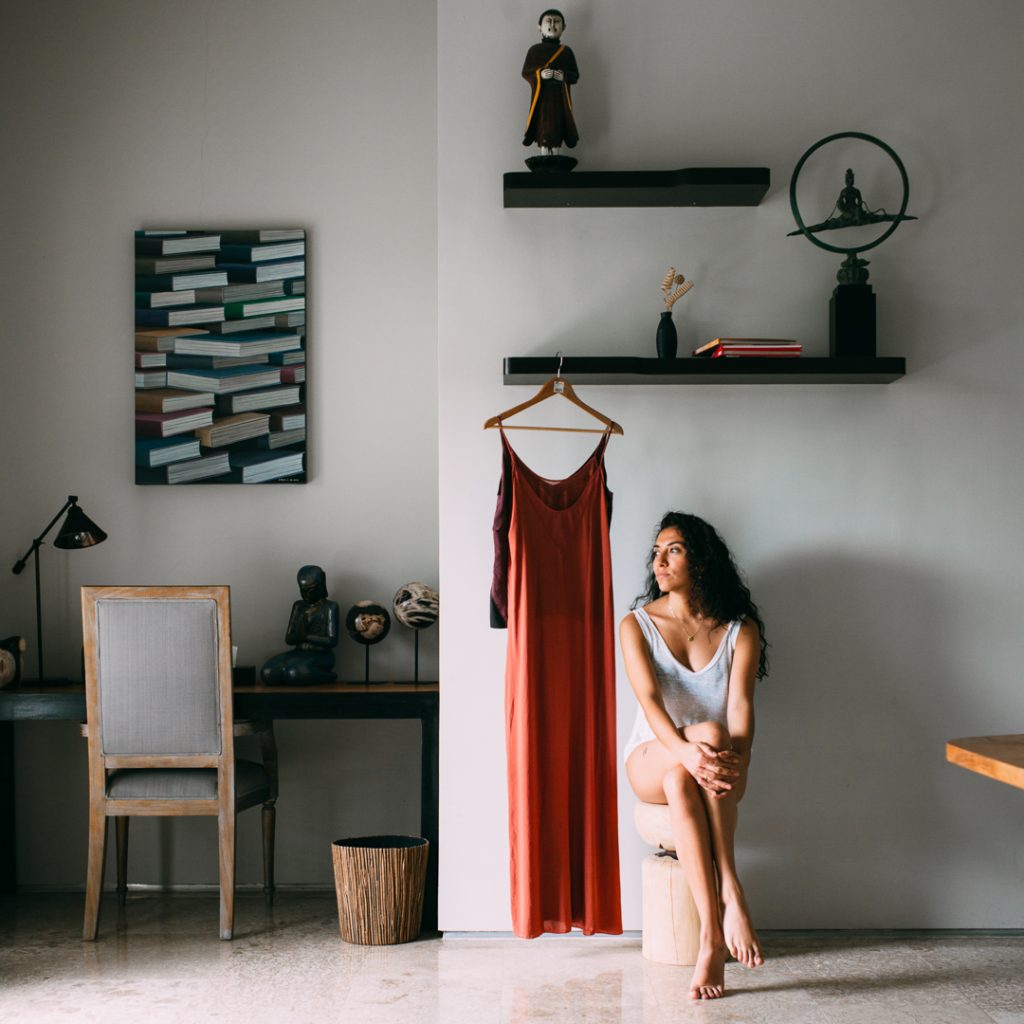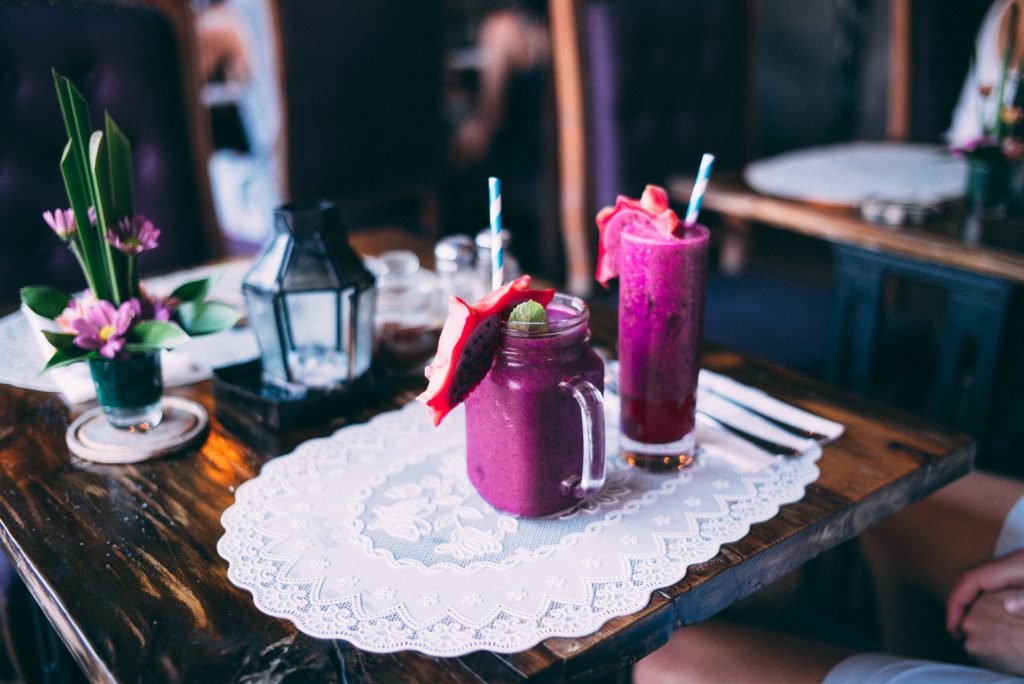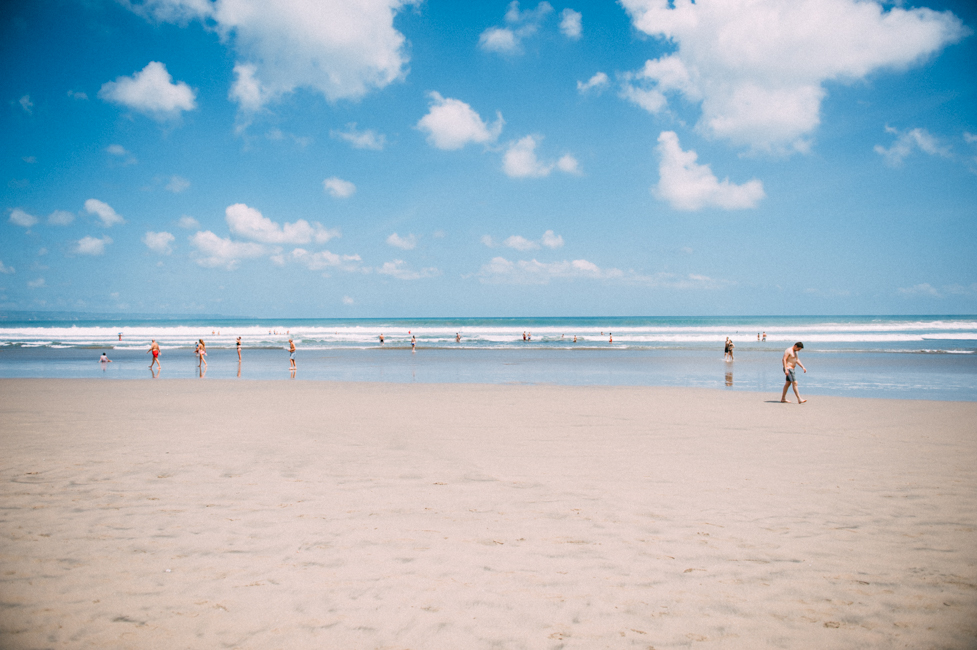 Ubud
If you go to Bali, please don't forget to visit Ubud. I think this was the best part of our trip, as we had the impression that you can learn more about the Balinese culture, eat the most delicious local dishes and explore the most amazing temples.
For our transport from Seminyak to Ubud, we took a taxi. You can make very good deals and it helps you to save time.
We stayed in Villa Beji Indah which we booked through Airbnb. This villa was located very close to the Monkey Forrest and hence a bit further away from the Ubud town center.
Since we only had 3 days to look around we hired a driver to take us to all the temples we were planning to visit. He was very professional and took us to a long list of temples in around 6 hours. I still have his contact details, so if you want them send me a message!
We visited the Goa Gajah, Tirta Empul, Gunung Kawi, we had some late lunch in a restaurant with an amazing view at the volcano and at the end, we visited Tegalalang Rice Terrace.
On our way back we visited a place where they sell Luwak coffee. If you don't know about it this coffee includes part-digested coffee cherries eaten and defecated by a civet cat.
I was really interested to know about it because I love coffee and I wanted to try it. What I didn't like and a lot of people say the same thing is, that this place had a civet cat in a cage just to show you how the animal is looking like. It made me feel sad because they claim is a natural process and these animals are never mistreated.
On the next day, we went to visit the famous Monkey forest. Something you shouldn't miss. I totally recommend it, but beware of those little thief monkeys that take advantage of your innocence. Yes, they can be a bit dangerous, we have seen a couple of times when monkeys were taking sunglasses, cameras, personal belongings to their own stash. Anyways, it is better to carry some food because they like to come close to you and take the food. Usually, they would stay a couple of seconds on your shoulder and then leave, they are certainly very confident.
After being attacked couple of times and having spent all our bananas, we decided to have some lunch and ended up in a little place run by an older woman. Everything was very basic and we didn't know what we had ordered, but it turned out to be the best Nusa Goreng ever. If you are up for some amazing food, you can find her restaurant in front of an elementary school on a corner a 5-minute walk from the monkey forest.
_________________________________
Ubud
Si visitas Bali, por favor no te pierdas Ubud. Para mi esta fue la mejor parte de nuestro viaje ya que aquí puedes aprender más sobre su cultura, comer los mejores platillos locales y explorar los templos más interesantes.
Para llegar aquí contratamos un taxi, puedes encontrar precios muy buenos y ahorrarte tiempo.
Nuestro hospedaje lo encontramos en Airbnb, se llama Villa Beji Indah. El hotel está localizado muy cerca del Monkey Forest a 5 minutos en carro del centro de Ubud.
Ya que sólo teníamos 3 días para explorar la zona, contratamos a un chofer para que nos llevara a los lugares que queríamos visitar. El fue muy profesional y nos llevo a una larga lista de templos en 6 horas. Aun tengo sus datos, si les interesa envíenme un mensaje.
Visitamos Goa Gajah, Tirta Empul, Gunung Kawi, comimos en un restaurante con una vista maravillosa hacia el volcán y al final visitamos Tegalalang Rice Terrace.
En nuestro trayecto de regreso al hotel visitamos uno de los lugares que vende café Luwak. Si nunca lo han escuchado incluye cerezas de café parcialmente digeridas, comidas y defecadas por un gato civeta.
Tenía mucha curiosidad de saber más sobre su proceso y quería probarlo ya que es muy difícil de encontrar en Europa. Lo que no me gustó es que en el lugar tenían uno de estos animales enjaulados, sólo para mostrarle a la gente como son. Me sentí un poco triste saber que quizá estos animales no reciben un buen trato, ya que ellos recalcan que es un proceso natural y los animales no son maltratados.
Al día siguiente visitamos el famosos Monkey forest, esto no te lo puedes perder. Lo recomiendo totalmente pero deben tener mucho cuidado que los monos les gusta robar y se aprovechan de tu inocencia. Sí, estos monos son un poco peligrosos, muy lindos pero tan sólo en 10 minutos pudimos observar como despojaban de sus pertenencias a algunos turistas distraídos. Lo mejor es llevar un poco platanos ya que les gusta mucho acercarse a ti y comer en tu hombro.
Después de ser atacada un par de veces decidimos ir a comer. Nos encontramos con uno de los mejores restaurantes locales, comida tradicional y a buen precio. El lugar es muy sencillo pero la señora de la casa prepara el Nusa Goreng más delicioso que probé en todo el viaje. Si te gusta explorar sitios como este, lo puedes encontrar a 5 minutos caminando del Monkey forest, enfrente de la escuela primaría.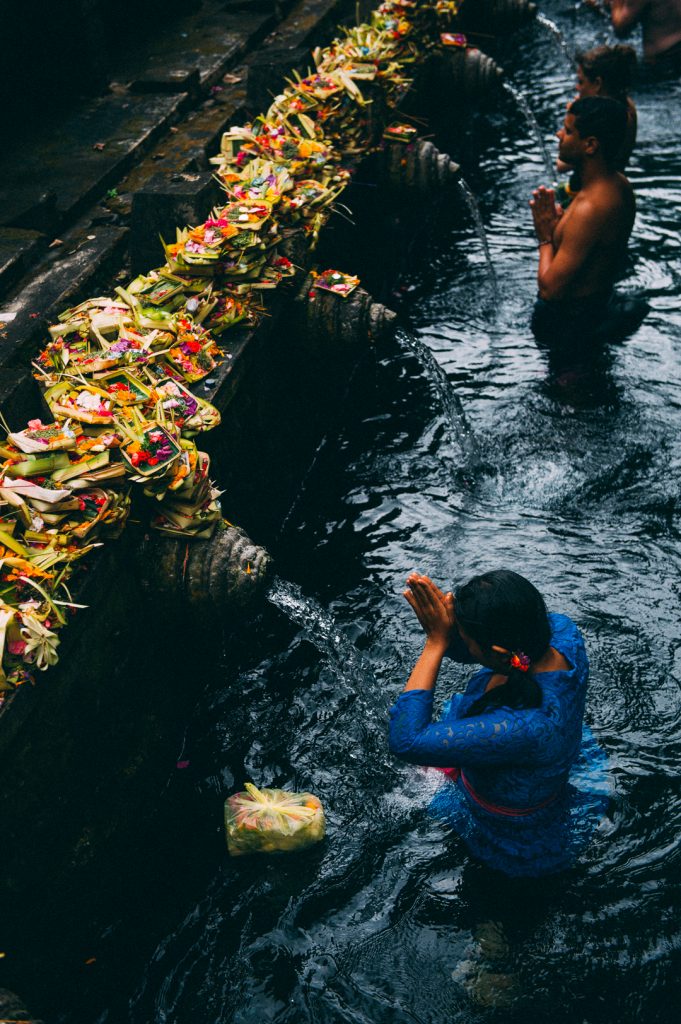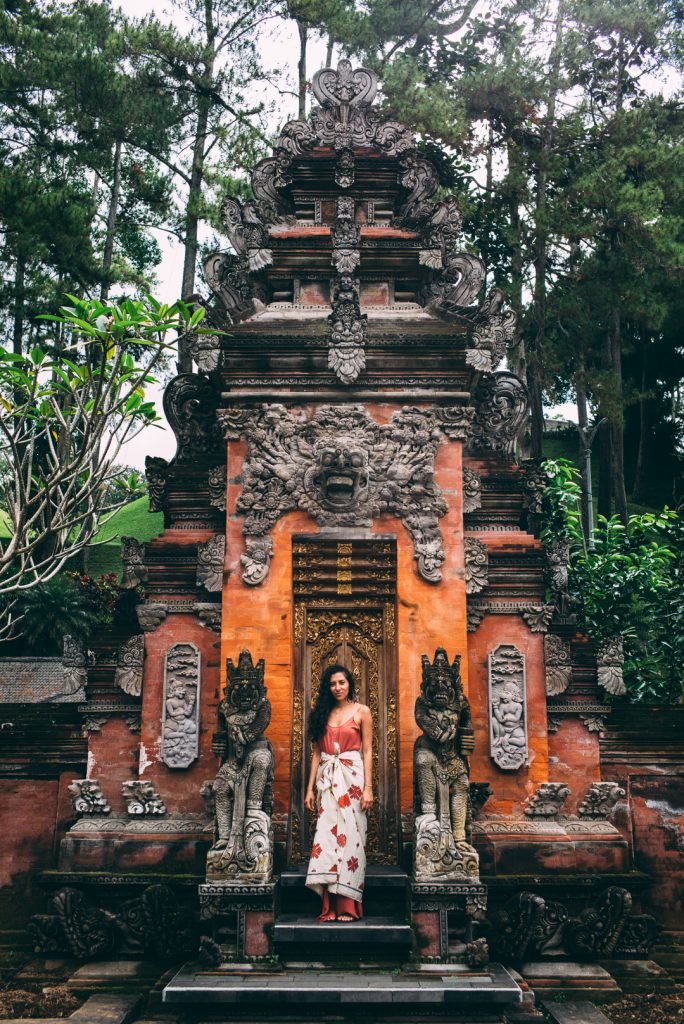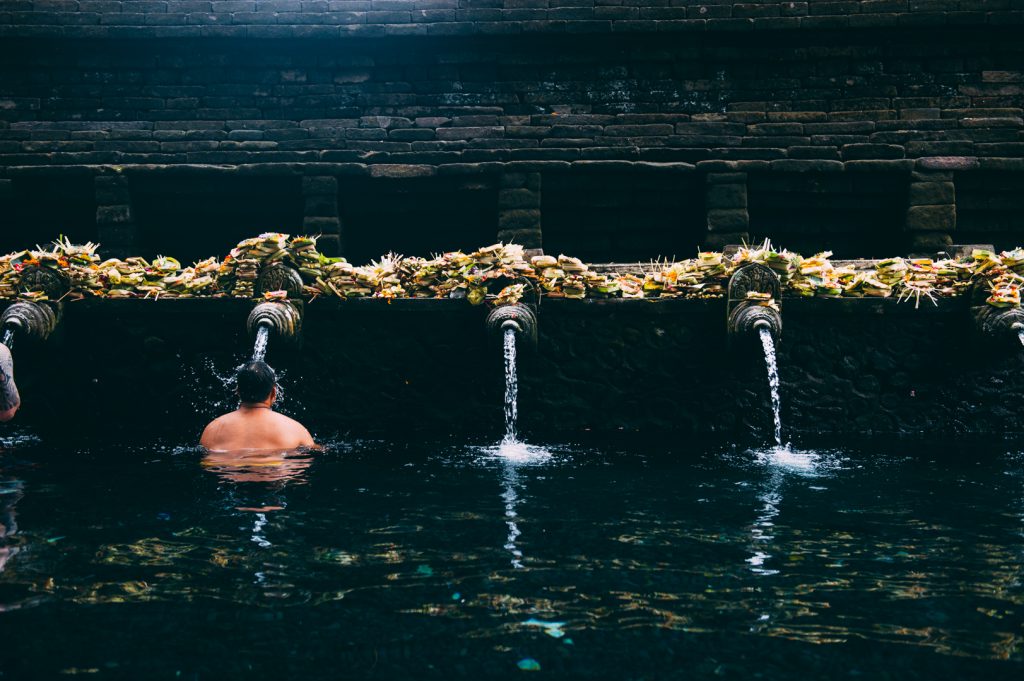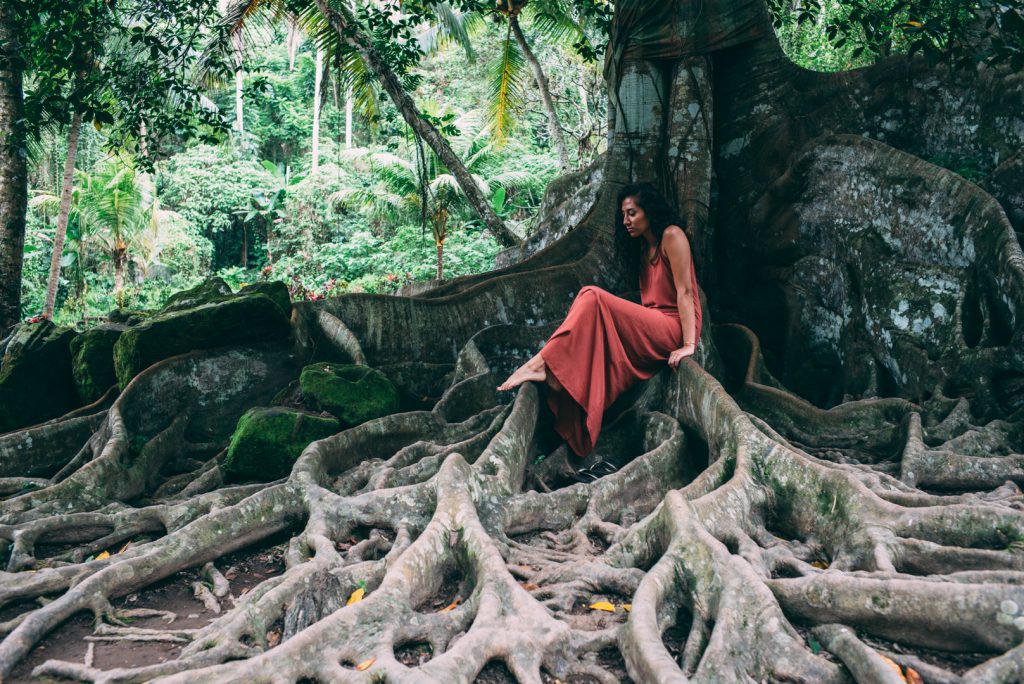 Gili Trawangan
If you are longing for those amazing white sand beaches and escape from everything, go and visit the Gili islands!
We drove from Ubud to Padang Bai port and went to Gili Trawangan with the Blue Water express boat. Everything worked perfectly, we arrived safely and didn't have any remarks about the company.
The islands are very small, so you can see it discover everything by foot or bike. Within a day you know most parts of the island, which allows you to just relax at the beach and forget about everything else. At least that's what we did, I love to spend time at the beach, going for a swim every now and then. This was by far the most relaxing part of our trip.
This time we stayed in an Airbnb place, which was alright but unfortunately I can't find the link anymore to share it with you. Located on the west side of the island and hence away from the more crowded area, we had to walk for a bit to find restaurants. On the second night we had amazing street food at a small square close to the harbour.
_________________________________
Gili Trawangan
Y aquí es donde me enamoré de la playa, si eres como yo que te gustan las playas paradisiacas entonces ve a las islas de Gili!
Nos trasladamos en taxi desde Ubud a el puerto de Padang Bai y de ahí en barco con la compañía Blue Water express. Todo funcionó a la perfección y llegamos a la isla a salvo, lo digo por los malos comentarios que te puedes encontrar por internet.
Las islas son muy pequeñas, así que puedes descubrirlas caminando o en bici. En un día puedes conocer la mayor parte de la isla, lo que te deja mucho tiempo para relajarte y disfrutar del mar. Por lo menos eso fue lo que hicimos, dedicamos nuestras horas a la playa y a remojarnos cada vez que teníamos calor. Gili fue lo más relajante de nuestro viaje.
Nos hospedamos en un Airbnb, nada mal pero no puedo encontrar el link para mostrártelo. Está localizado en la parte oeste de la isla, un poco lejos de las zona habitada así que teníamos que caminar un poco para comer. En la noche siguiente tuvimos una deliciosa cena en un mercado cerca del puerto, lo recomiendo muchísimo.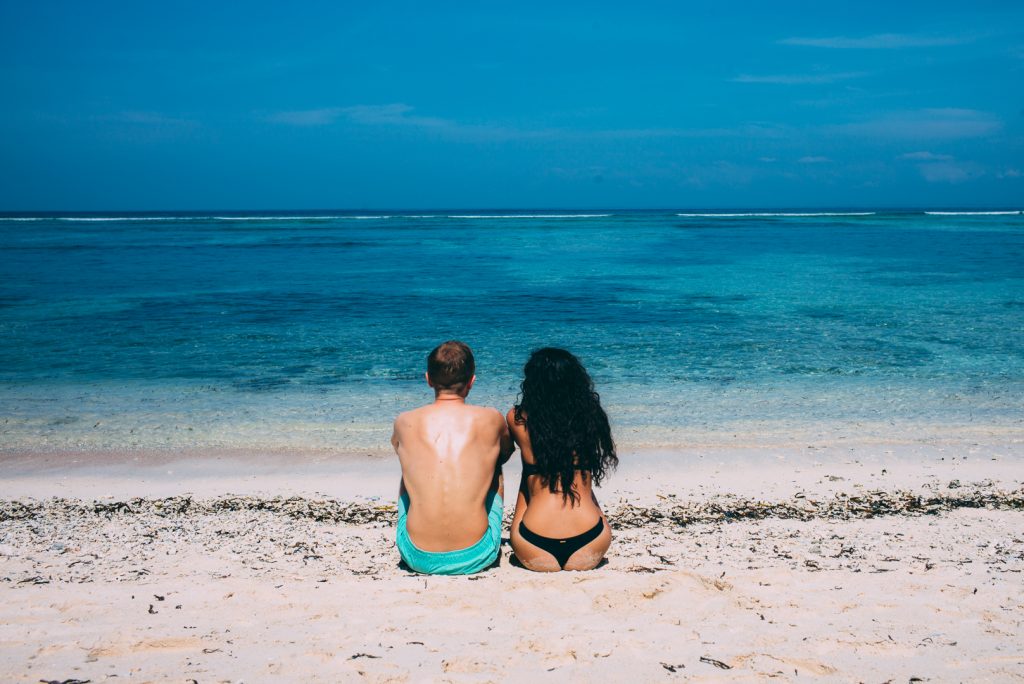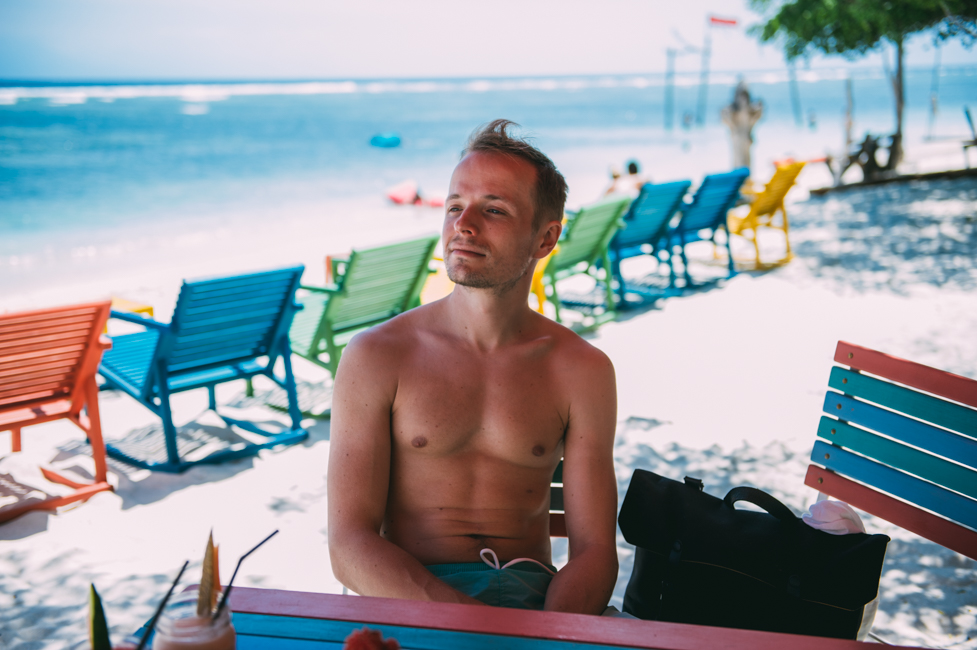 Bukit
After a bumpy passage back to Bali we continued our journey to Bukit, this area on the southwest of Denpasar is all about surfing, enjoying golden sandy beaches and admiring amazing cliffs.
We spent our last days in a beautiful villa called Sal Secret Spot we just loved it! It was super stylish, very hidden and they had an amazing fruit bowl for breakfast and tasty pancakes.
At this point we were tired of hiring taxis and rented a motorbike. Jens was my driver and I actually enjoyed it so much. We could see plenty of places and improve our savage driving skills, but be very cautious when driving in Bali. Besides you should check that the brakes of your moto are working at least a bit, because this area of the island has a lot of steep hills.
In this area you can find the Uluwatu temple, which is one of the main attractions of this area. I recommend you to visit this place during sunset and be aware of the monkeys, in this place they are really smart and expert thief.
We basically spent our last days exploring every single beach around. A beautiful beach close by our hotel is called Bingin beach and certainly a good place to see an amazing sunset.
Besides we went to Padang Padang beach, which is very small and can be a bit crowded. There are plenty of rocks, which make it so special. Later that day we visited Melasti beach, no tourists around and some nice cliffs.
On our last day we visited Suluban beach. It's better to check on the tide before you go, because you need to walk through a cave to arrive at the beach. If the level of the sea is getting to high, you will need to swim a bit back to the entry point which can be a tricky due to the waves and the cliffs.
_________________________________
Bukit
Después del trayecto en bote hacia Bali continuamos nuestra ruta a Bukit. Una zona localizada hacia el sur oeste de Bali, donde muchas personas van a surfear, a disfrutar de las playas doradas y hermosos barrancos cerca del mar.
Disfrutamos de nuestros últimos días en Sal Secret Spot y simplemente lo amamos. El hotel es súper moderno y muy bien escondido, aquí pudimos disfrutar de un buen desayuno con frutas y deliciosos hot cakes.
Después de varios días moviendonos en taxi decidimos rentar una moto. Jens fue mi chofer y la verdad es que lo disfrutamos mucho. Pudimos ver muchos lugares e improvisar nuestras habilidades de manejo. Si decides rentar una moto tienes que ser muy cuidadoso y checar los frenos antes de usarla.
Aquí es donde se encuentra el templo Uluwatu, una de las atracciones más visitadas de la zona. Te recomiendo que visites este lugar en el atardecer y ten cuidado con los monos que son muy listos.
Básicamente exploramos diferentes playas en nuestros últimos días. Al lado de nuestro hotel encontramos una playa hermosa llamada Bingin, el lugar perfecto para ver el atardecer.
Además visitamos la playa Padang Padang, es muy pequeña y siempre hay mucha gente. Para llegar a ella tienes que caminar a través de unas rocas, lo que la hace muy especia. Por la tarde visiramos la playa Melasti, sin turistas y hermosos barrancos.
En nuestro último día visitamos la playa Suluban. Es mejor checar la marea ya que tienes que caminar a través de una especie de cueva. Si el nivel del mar es muy alto, tendrás que mojarte un poco para llegar a la entrada.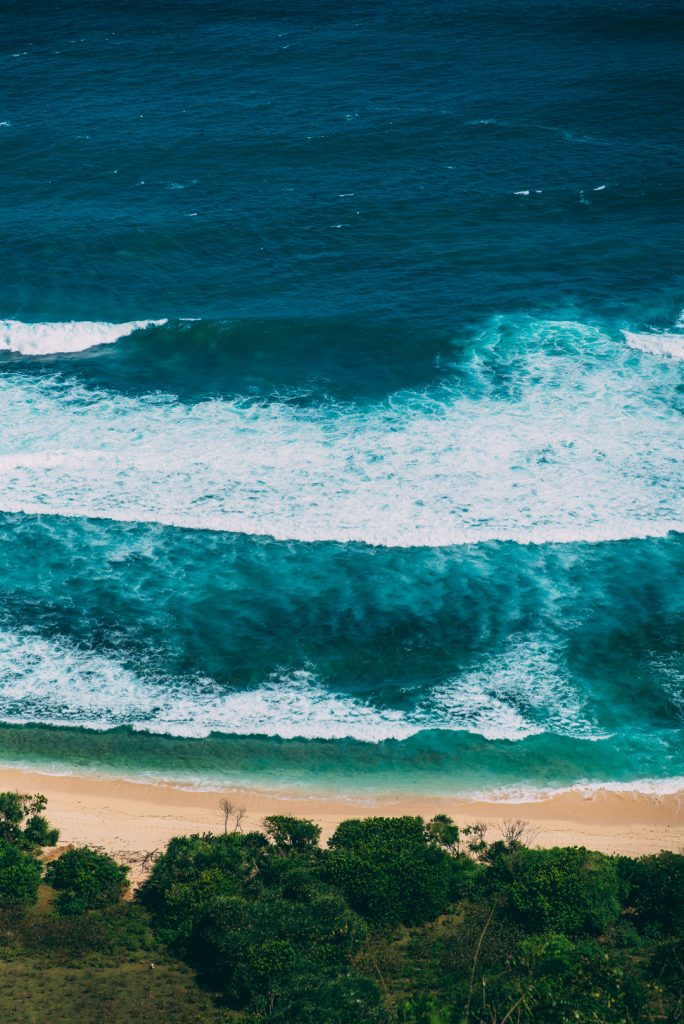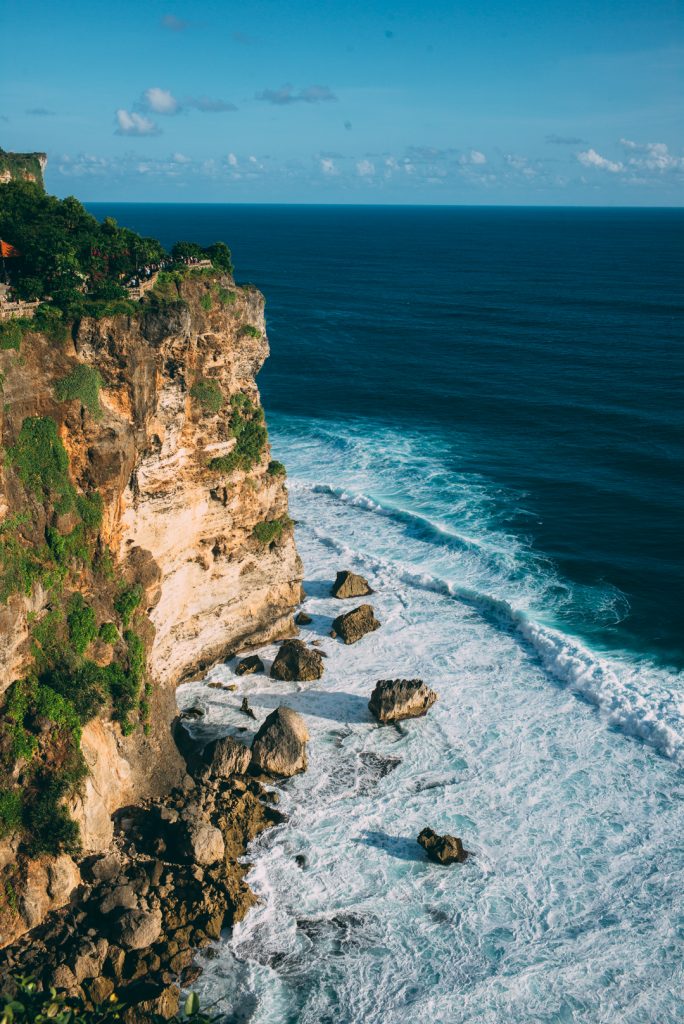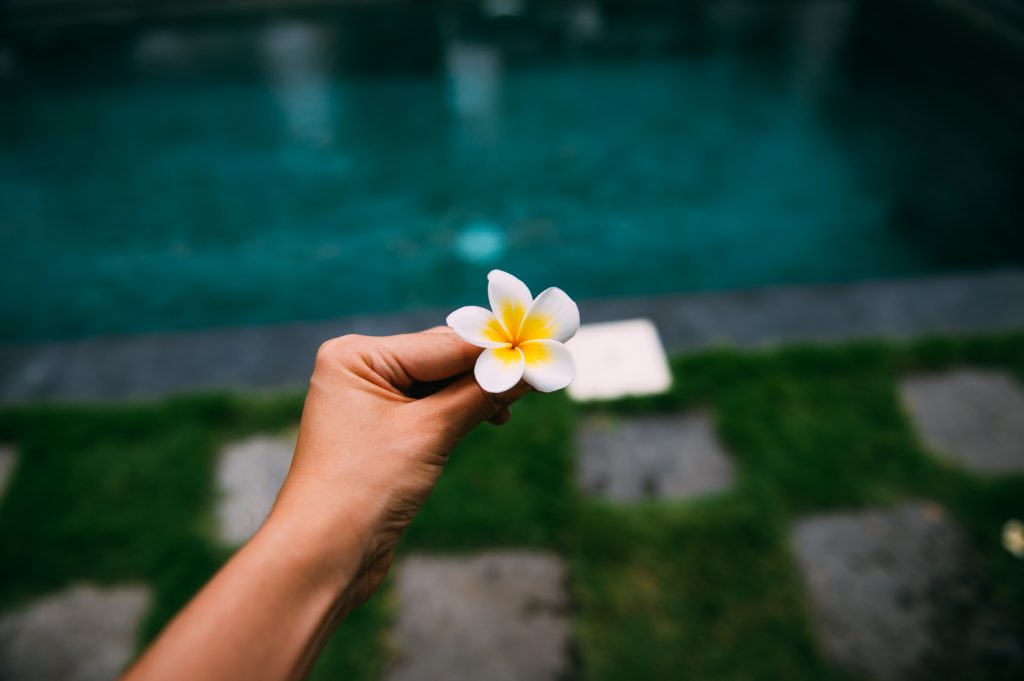 Before we headed back to London we spent a couple of days in Jakarta. An interesting but not easily accessible metropole with a lot of heat, torrential rain, amazing food and awesome coffee shops.
Here you can have a look to our Bali video, this is the first video we have ever done together Jens and I.
_________________________________
Antes de regresar a Londres, disfrutamos de un par de días en Jakarta. Una ciudad muy interesante pero un poco complicada, un clima muy caliente, un poco de lluvia pero unos platillos deliciosos y las mejores cafeterías.
Aquí puedes observar nuestro vídeo sobre Bali, el primer vídeo que hicimos los dos juntos.
All images were taken and edited by Cynthia and Jens.
Todas las imágenes tomadas y editadas por Cynthia y Jens.