Texto disponible en Español al final de la versión en inglés.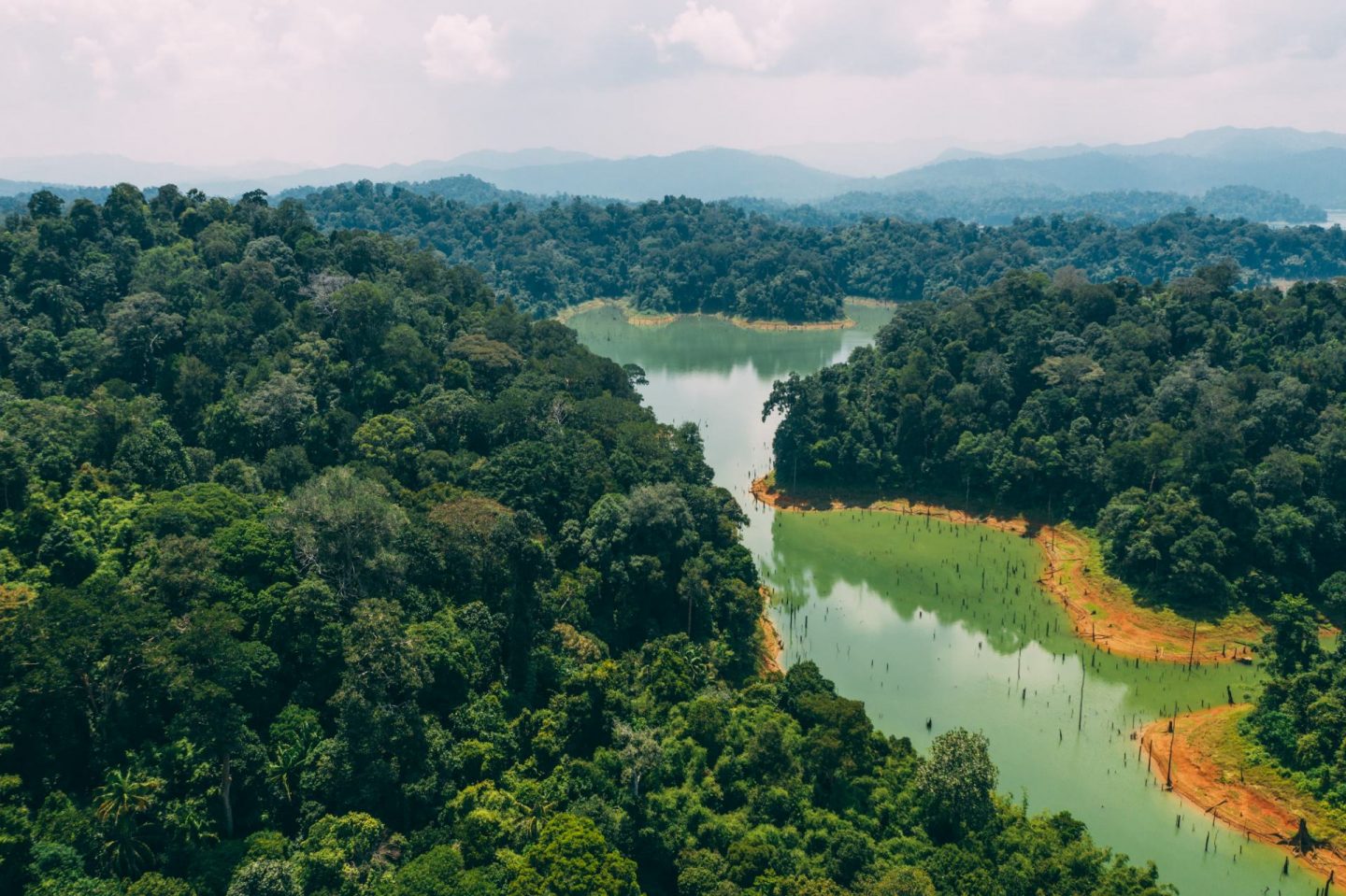 One of the advantages of living in Shanghai is all the direct flight options you have to nearby countries. Malaysia is one of them!
Here I'll explain my journey to Penang, Gerik, Palau Tioman and Kuala Lumpur.
PENANG
Our first stop was in Penang, we only spent the night here and walked around George Town after dinner.
This UNESCO listed area offers beautiful architecture, some street art and delicious food. I recommend staying here for two days to get to know more about the city.
We had a different plan so we rented a car and drove around 2 hours to Gerik to visit the Royal Belum State Park. It is one of the oldest rainforests in the world with 130 million years!
GERIK
We stayed at Belum Rainforest Resort, a nice hotel with a beautiful view of the lake.
There are a lot of activities to do around so you barely see other people doing the same tours.
We went for a tour in the forest trying to spot wildlife and the famous rafflesia.
Even if we were not lucky seeing the rafflesia blooming we could enjoy nature and see some elephant footprints, beautiful birds and bath in a stunning waterfall. I recommend you to wear comfortable clothes and protect yourself from leeches that are very clever and easy to get into your clothes.

If you are interested to see the rafflesia in full bloom, I recommend you to travel in the rainy season. There is no specific time favourable but it is more likely to see it open during the wet time.
After a few days here we drove back to Penang and took a flight to Johor Bahru.
We were very short in time so we took a taxi to the port Mersing where a Blue Water Express ferry was taking us to Pulau Tioman island.
One of my favourite places in Malaysia.
PULAU TIOMAN
Since the moment we were approaching to Tioman you could see the Mount Kajang and the turquoise colour of the sea.
There was a boat waiting for us, ready to take us to our hotel.
We stayed at Hotel Bagus Place retreat and we were so happy with our staying.
The hotel was located at the south-west of the island, we could see sunset and sunrise without the mountain covering the view. In the beginning, we spent the night in a room located in the jungle, we could hear all the birds and monkeys playing around.
The next days we changed to a sea view room to get a different feeling.
One thing to take on consideration is the sound of the waves crashing into the rocks, if you have a very sensitive sleep then this room type is not for you.

We went to this hotel as part of our holidays so any recommendation is based on my pure experience as any other guest.
Location was the main highlight for us, with a few jungle treks around and an easy walk visit to Kampong Asah Waterfall.
We loved exploring around and visiting all the nearby by empty beaches.
On the other hand, the food was exceptional, the chef was very friendly and welcoming. Every day we were eating something different and so delicious.

The rooms were average, basic bungalows with a nice shower, clean beds but a bit dark for my taste.
In the end, Jens and I were so happy to spend our time here and for sure we would love to visit Tioman island in the future.
KUALA LUMPUR
Then for our last stop, we spend a couple of days in Kuala Lumpur.
I had a few places on my list for some years like the Petrona towers and I was so happy to be there and see them for the first time.
THE FACE SUITES
We collaborated with The Face Suites hotel. I have heard so many good recommendations about this place and I have seen beautiful pictures from the infinity pool, so definitely we had to stay here.
The face suites welcomed us with a tasty dinner at the Tangerine Restaurant. The views from there were just spectacular.

Next day we wake up very early in the morning to see the sunrise at the infinity pool. This area was very crowded since everyone is there for the same thing, watching the sun rising next to the Petrona towers.
At the end doesn't matter how crowded it was, we loved the beautiful view of the Petronas and the KL tower.
Changing topic, we visited the Thean Hou Temple, Perdana Botanical garden and the Batu Caves.
The Batu caves were recently painted in colours so the place was not busy, we arrived very early and took some pictures without any problem. After 9 am we were going downstairs and all tourist started arriving.
Apparently now you need to be there before sunrise so you can take pictures without people.
I honestly found the place so beautiful, we could still see people working on the painting and building some of the exterior structure.

Later on that day we went back to Shanghai, so happy with one more country in our checklist.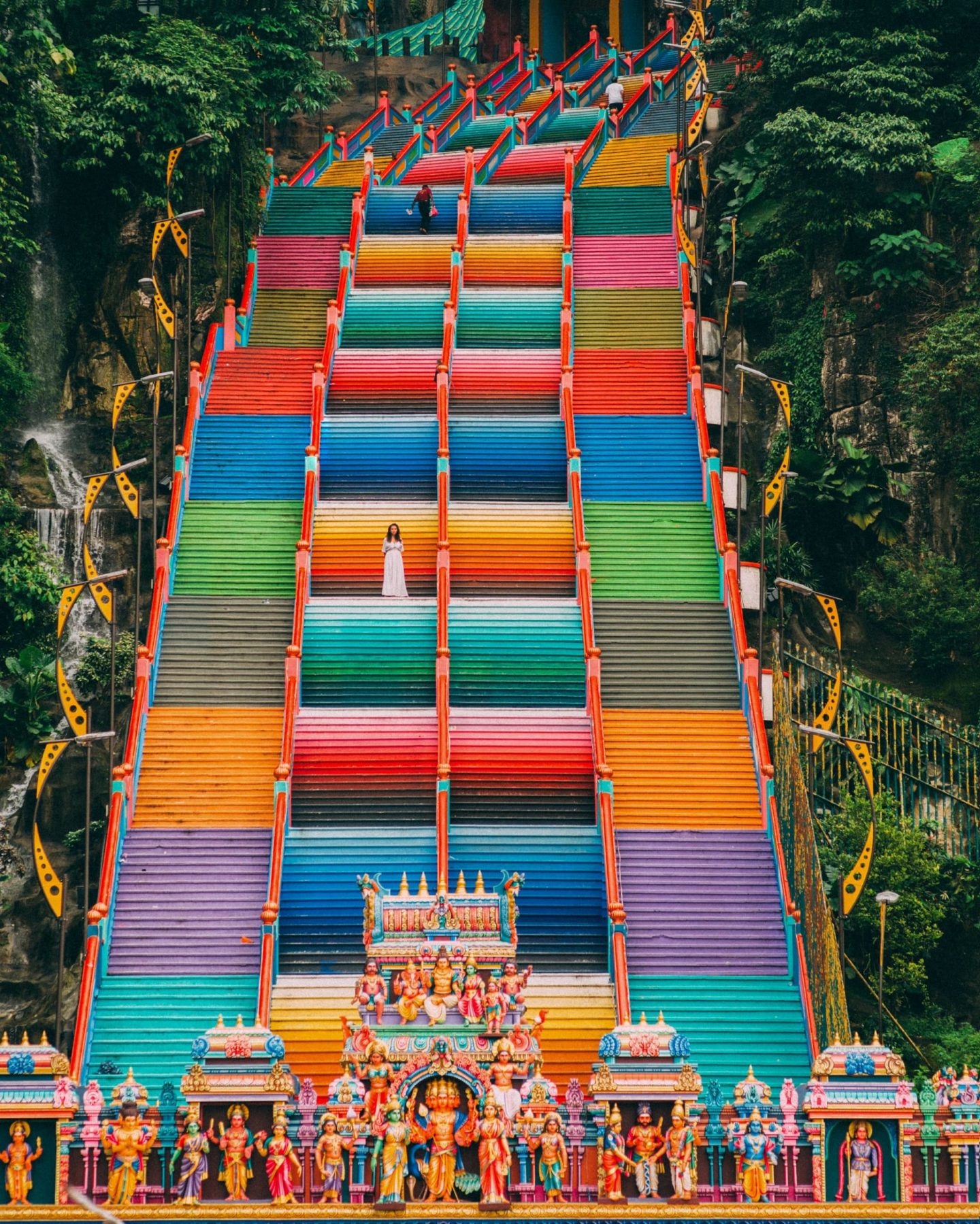 Have you visited Malaysia before? Let me know your thoughts!



---
Explorando lo mejor de Malasia
Una de las ventajas de vivir en Shanghai es todas las opciones que tenemos de vuelos directos a países cercanos. ¡Malasia es uno de ellos!
Aquí les contaré mi viaje a Penang, Gerik, Palau Tioman y Kuala Lumpur.
PENANG
Nuestra primera parada fue en Penang, sólo pasamos una noche aquí y caminamos por George Town después de la cena.
Esta área está catalogada por la UNESCO y ofrece una hermosa arquitectura, algo de arte callejero y deliciosa comida. Así que les recomiendo quedarse aquí por lo menos dos días para conocer más la ciudad.
Como teníamos un plan diferente, rentamos un automóvil y manejamos por 2 horas a Gerik para visitar el Parque Estatal Royal Belum. ¡Es una de las selvas tropicales más antiguas del mundo con 130 millones de años!
GERIK
Nos alojamos en Belum Rainforest Resort, un bonito hotel con una hermosa vista al lago.
Esta zona ofrece muchas actividades, por lo que apenas se ve a otras personas haciendo los mismos recorridos.
Hicimos un tour por el bosque tratando de vivir la vida salvaje de cerca y ver la famosa rafflesia.
Aunque no tuvimos suerte viendo la rafflesia floreciendo completamente, pudimos disfrutar de la naturaleza y ver algunas huellas de elefantes, hermosas aves y un baño en una impresionante cascada.
Si te interesa hacer un tour de este tipo por la selva les recomiendo llevar ropa cómoda y protegerse de las sanguijuelas que son muy listas y fácil se te meten por la ropa.
Si está interesado en ver la rafflesia en plena floración, le recomiendo que viajen en la temporada de lluvias. No hay un tiempo específico favorable, pero es más probable que se vea abierta durante la temporada más húmeda.
Después de unos días aquí regresamos a Penang y tomamos un vuelo a Johor Bahru.
Teníamos muy poco tiempo, así que tomamos un taxi hasta el puerto de Mersing, donde un ferry Blue Water Express nos llevo a la isla Pulau Tioman. Uno de mis lugares favoritos en Malasia.
PULAU TIOMAN
Desde el momento en que nos acercamos a Tioman, se podía ver el Monte Kajang y el color turquesa del mar.
Había un bote esperándonos, listo para llevarnos a nuestro hotel.
Nos alojamos en el Hotel Bagus Place retreat y nos quedamos muy contentos con nuestra estancia.
El hotel está ubicado en el extremo suroeste de la isla donde podíamos ver el atardecer y el amanecer sin que la montaña tapara las vistas. Al principio pasamos la noche en una habitación ubicada adentro de la jungla. Podíamos escuchar a todos los pájaros y monos jugando.
Los siguientes días nos cambiamos a una habitación con vista al mar para tener una experiencia diferente.
Una detalle que tomar en cuenta es el sonido de las olas chocando contra las rocas, si tienes el sueñi muy ligero, este tipo de habitación no es para ti.
Para nosotros, cualquiera de esas dos habitaciones fue perfecta, nos encantó el bungalow rodeado de hermosos árboles y el fuerte sonido de las olas durante la marea alta.

Fuimos a este hotel como parte de nuestras vacaciones, por lo que cualquier recomendación dada aquí se basa en mi pura experiencia como cualquier otro huésped.
La ubicación fue lo más destacado para nosotros, con algunas caminatas cercanas por la jungla y fácil acceso a la cascada Kampong Asah.
Nos encantó explorar y visitar las playas virgenes.
Por otro lado, la comida era excepcional, el chef fue muy amable y acogedor. Todos los días comíamos algo diferente y muy delicioso.
Las habitaciones eran promedio, bungalows básicos con una buena ducha, camas limpias pero un poco oscuras para mi gusto.
Al final, Jens y yo estábamos muy contentos de pasar nuestro tiempo aquí y seguro que nos encantaría visitar la isla de Tioman en el futuro.
KUALA LUMPUR
Luego, para nuestra última parada, pasamos un par de días en Kuala Lumpur.
Tenía algunos lugares en mi lista durante años, como las torres Petronas, estaba muy feliz de estar allí y verlas por primera vez.
THE FACE SUITES
Colaboramos con el hotel The Face Suites. He escuchado tantas buenas recomendaciones sobre este lugar y ver hermosas fotos de la piscina infinita que tuvimos que quedarnos aquí.
Desde que llegamos nos sentimos como en casa y nos encantó nuestra habitación.
El staff de the Face Suites nos recibieron con una deliciosa cena en el restaurante Tangerine. Las vistas desde allí eran espectaculares.
Al día siguiente nos levantamos muy temprano en la mañana para ver el amanecer en la piscina infinita. Esta área estaba muy llena ya que todos vamos ahi por el mismo motivo, ver el sol salir a un lado de las torres Petronas.
Al final, no importó lo abarrotado que estaba, nos encantó la hermosa vista de las Petronas y la torre KL.
Durante nuestra estancia visitamos el templo de Thean Hou, el jardín botánico de Perdana y las cuevas de Batu.
Las cuevas de Batu habían sido pintadas recientemente con muchos colores, por lo que el lugar no estaba tan lleno de turistas. Ese día llegamos muy temprano y tomamos algunas fotos sin estar abarrotados. Después de las 9 de la mañana que íbamos bajando las escaleras muchos turistas comenzaban a llegar.
Aparentemente ahora necesitas estar allí antes del amanecer para poder tomar fotos sin tanta gente.
Honestamente, el lugar es muy bonito y aún podíamos ver gente trabajando en la pintura y construyendo parte de la estructura exterior.
Más tarde ese día salimos de regreso a Shanghai, muy contentos con un país más en nuestra lista.
¿Y tu has visitado Malasia antes? ¡Cuentame tu experiencia!